Ludlow Dog Day 2019, on Sunday July 21st at Stokesay Court , is no ordinary day in the busy doggy diary, but a fun family day to celebrate our furry friends in all their guises.
Highlights included:
Exciting dog display teams
Loads of competitions for your dogs to enter from fun scurries to waggiest tail
Tasty fayre, tea, cakes, real ales and Pimms to the sound of the Ludlow Concert Band
Stalls offering a wide variety of countryside and doggy accessories
Tours of Stokesay Court house – of the film 'Atonement' fame, available separately
An invitation to roam and enjoy the extensive gardens of Stokesay Court and visit the Stokesay Court Walled Garden
Free parking and a free programme
Please scroll down this page and follow the links to find out more about the day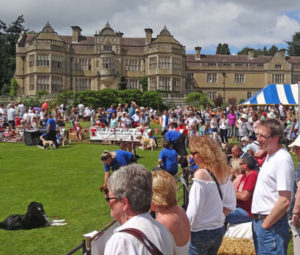 Ticket Information & Prices
Tickets can be purchased on the day or early bird tickets are available on-line. MORE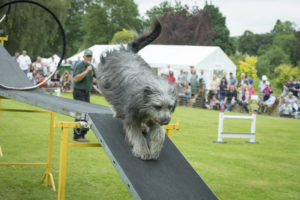 Displays Teams
Along with old favourites we welcome back Paws of Parham with their demonstration of Flyball and Agility. More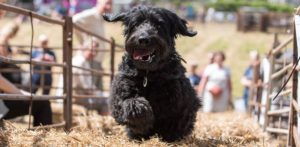 Have -a-Go Events
Following its success last year there will be fun dog racing plus the lots of other have Have-a-Go events. More

Classes 
Loads of classes for your dogs to enter from fastest sausage eater to waggiest tail. More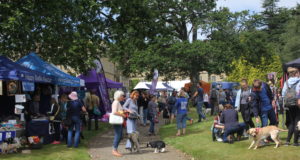 Stalls & Pitches
Last year some 35 trade and charity stalls took pitches at the Ludlow Dog Day.   MORE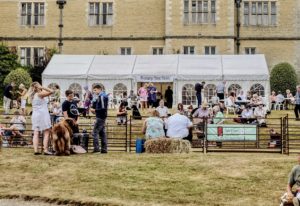 Other Attractions
It is not quite all about dogs, well almost, but there will be refreshments available, a chance to see round Stokesay Court, the Walled Flower Garden and listen to the Ludlow Concert Band. More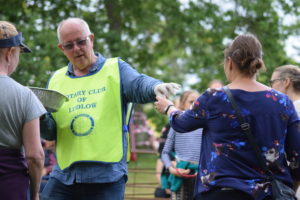 About Ludlow Dog Day, our sponsors and volunteers 
The day is all about families, dogs and their owners having fun but behind it are those who make it happen. MORE
Beneficiaries 
This year Ludlow Rotary Club has chosen St Michael's Hospice, Hope House for Children, Guide Dogs and Ludlow Rotary Cares as the charities to be the beneficiaries of Ludlow Dog Day 2019. More
Dog Day FaceBook Photograph Group
Join our FaceBook Group and view a great selection of photographs and videos of Dog Day 2018 and you can also upload and share your favourite photos from the day.  Photos
Organised by the Rotary Club of Ludlow to raise funds for local and Rotary chosen charities. Please come along and enjoy the day knowing you'll be supporting  good causes.